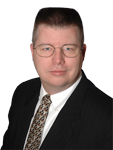 On October 18, 1870, the Grand Lodge of Ohio Chartered J. B. Covert Lodge and as we enter the Lodge's 147th year I am humbled to be elected to serve as Worshipful Master. I have truly enjoyed a lifetime of Masonry as some of my earliest memories are associated with Masonic functions that my parents were involved with. I remember Christmas parties at Phoenix Lodge where my brother and I both received "Planet of the Apes" models and every child was given an orange to offset the 14" tall M & M filled candy cane. I also remember my dad stopping the car on the highway to help a stranded motorist, because he saw a square and compass on the car's bumper.
I learned through several examples of Masons helping Masons through my life that some of the best lessons of Masonry are taught outside the doors of the lodge room. Including meeting a member of J. B. Covert at Meijer's at 9 pm on the Sunday before Christmas to purchase much needed groceries for him and his family and seeing the sense of relief upon his face knowing that he'd have food for his kids.
I have had the luxury of traveling around the country and meeting Masons in every state I've passed through thanks to my time in the US Army, the Boy Scouts, and my own company. I enjoy this aspect of Masonry immensely, to know that the person you are meeting doesn't know you…but calls you Brother. I have seen the acts of Brotherly Love and Relief at home and on the road, which reaffirms my belief in what we are doing in this fraternity.
I am excited about serving J. B. Covert Lodge and helping its members enjoy a rich and vibrant Masonic experience and I am very excited about the officers who I will be working with. I hope that you will join us for our installation on December 17th.
Worshipful Master – Dave Olmstead
Senior Warden – Carl White
Junior Warden – John Rowe
Treasurer – Chuck Wright
Secretary – David Miller
Senior Deacon – Roy Elliott
Junior Deacon – Tom Lind
Tyler – Otis Davis
Chaplain – Paul Wheeler
Senior Steward – Josh Disney
Junior Steward – Walt Disney
Marshal – WB Jack Lennon
LEO – WB Daniel Campbell
Trustees – Garry Freese, Rob Cordes, Paul Reuscher, Russ Shipley