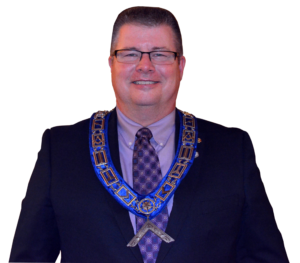 It was my privilege to be elected to serve as Master of J. B. Covert during its 147th year. As I said from the moment I became Master-Elect to the last stated meeting of the year, "this was not Dave Olmstead's year this was J. B. Covert's 147th year" and as you look at the last 12 months you realize that it is barely over a half of a percent (0.6% to be exact) of our Lodge's total existence. To put this timeline into perspective if you served in the officer line of a lodge that is 147 years from Junior Steward to Worshipful Master you would have been in the officer line for 4.8% of the lodge's total existence. That's why as officers of this lodge it is imperative that we look at the long-range impact of the decisions we make and not just 12 months at a time.
The challenge with this way of thinking is that we are elected for 1-year increments and therefore it is too easy to think about just getting through the next 12 months. I'm glad to say that on several fronts this year we as officers of J. B. Covert Lodge did plan farther ahead than just to end of the Masonic year.
We had a lot of fun this year with some great events like our Ladies Night Dinner where we competed as couples while we learned how hard it is to stack Smarties candies or how challenging it is to shoot with your off-hand and non-dominate eye at our Family Range Day and Picnic while competing against others. We celebrated our patriotic love of this great nation as we collaborated again with the Boy Scouts for our Annual Flag Retirement & Awards Luncheon and we even helped send some Scouts to summer camp. We raised some funds for our Kyle Adkins Memorial Scholarship Fund and awarded a scholarship to a deserving student at Goshen High School. We helped our community by participating with the Union Township Police Department's Police Night Out. We supported the 6th Masonic District and other Masonic Charities thanks to the generosity of our Brethren. We came to the aid of several of our own Brothers in need, while saying goodbye to several who went to the celestial lodge above, and we raised several new Brothers from college students to business owners to retirees. We helped a young man earn his Eagle Scout award as he built a garden for us and this spring we'll help some 4H participants as they help us manage our garden so that we'll have vegetables to share within the Lodge and the community. We even found time to change out the old narrow theater seats and folding chairs for more comfortable and spacious pews. Finally, as the holiday season draws near we are again collecting toys for the USMC Reserves' Toys for Tots campaign.
One of the most exciting parts of our 147th year was our increased focus on Masonic Education within our monthly meetings. Our Lodge Education Officer, WB Daniel Campbell, accepted the daunting challenge he was given at the beginning of the year and it has made a significant impact for those Brothers in attendance as well as those who take advantage of our online education offerings. That's right, we are placing our educational materials on our website in a special "Members Only" section. If you'd like access to this are to see what you've been email us at web@jbcovertlodge.com for the passkey!
J. B. Covert Lodge #437 has had a great run for the first 147 years and I'm excited to have been able to serve in the role of Master during year 147. To all the Brothers and friends of J. B. Covert Lodge I say thank you for allowing to serve and I look forward to our next year with Bro. Carl White at the helm as he helps guide our Lodge through year 148!
Sincerely,
David Olmstead
Worshipful Master for year 147
J. B. Covert Lodge